Consulting
IF THE ADVICE IS GOOD, IT DOES NOT MATTER WHO HAS GRANTED IT!
We advise medium-sized, family and small businesses of hospitality industry. International experience, current knowledge of the industry and the individual counseling approach are our base. We also provide practical and results-oriented solutions together with you and your staff. Our goal is long-term customer relationships, which is why we are also after the consulting project with advice and practical help.
Based on the latest technologies and procedures developed for the hospitality industry, we provide uncomplicated and cost-oriented solutions for the following processes:
Digital guest journey
Contactless online check-in
Virtual concierge
Digital signagne and sound system
Hybrid entry systems
Modern energy management
Sales optimization through target-oriented web-based sales concepts
Passing on current marketing know-how and network
Employer branding
Cloudbased software solutions for accomodation concepts
Feasibility studies
Location analyses
Mid-sized businesses often have difficulties in finding qualified successor for the executive chair. A solution are external managers. These handle situations with much lesser emotion, but do not steal the owner's show.
"It is unfortunate if the family head sees himself as irreplaceable in management," says Sven Reumkens. He should know, because he has been the owner of the Rheinland Hotel Kollektion for years.
Especially in the fast pace of today's world, it is advisable to have a partner at your side, who provides objective and competent solutions for all areas within the area of private hotel management.
Do not hesitate to contact us. We can arrange a no-obligation, free consultation.
Not only because of Covid-19: What is the best way to manage a hotel contactless?
Therefore, operators of accommodation facilities need to intensively deal with the hygiene regulations in the hotel again. A contactless business is not only becoming increasingly important, but also a competitive advantage. But how can it be implemented?
We would like to inform you
1. how check-in can be completely digitalized
2. which systems help to implement contactless operation,
3. that the on-site service does not have to suffer from digitalization and
4. how gastronomy and checkout work without any risk factors.
DIGITAL FROM CHECK-IN TO CHECK-OUT
A nearly contactless hotel management is possible with the help of technology and some process changes in the hotel. From reservation to check-out, there are many contact points that you can digitalize: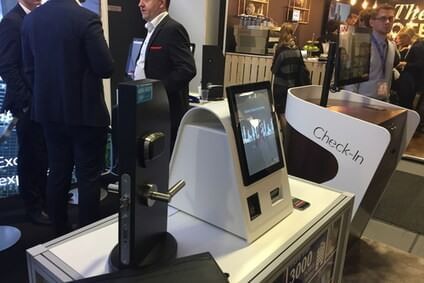 The shutdowns have made it clear that the industry is not yet returning to the usual way of interacting with guests and an operation as it used to be. Online reservation systems offer the possibility to pay online during reservation. With credit card payment with a 2-factor authentication via different payment providers, there is also no need to sign the registration form at the reception. If payment is made in cash or on site, unfortunately this administrative obligation cannot be handled contactless, since the operators of accommodation facilities are obliged to check the identity card and the registration form may not be signed digitally in Germany (yet).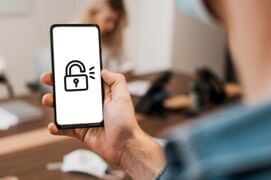 Guests do not necessarily have to pick up the room key personally by using the appropriate key systems. With the help of a code, which is communicated by e-mail or telephone, the key can be taken from a safe by the guest himself. Of course, both the key and the safe should be cleaned and disinfected regularly. But there is also a smarter way: Guests can open their room door, which is secured by a special lock mechanism, directly with their smartphone, thereby further minimizing contact points.
Personal contact can also be avoided during check-out by having guests pay the outstanding amount via the digital room directory and simply leave the room keys in the room. The invoice can be sent by e-mail and the stay could ideally take place without any risky contacts at all.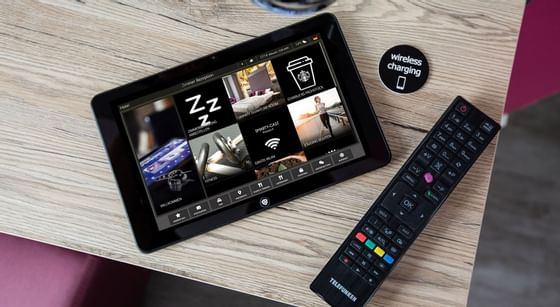 The use of a digital room directory can further assist the arrival of the guest. The online check-in helps to spare a trip to the reception desk. In addition, all information and instructions for a contactless stay can be communicated via such an application. Using the digital room directory on their own smartphone or tablet, guests can familiarize themselves with the measures even before their arrival and use the easy-to-use chat function with the reception if they have any questions.
This so-called "bring-your-own-device" concept eliminates the need for additional hardware, which not only ties up capital, but would also require extensive cleaning after each stay.
DO NOT FORGET ABOUT SERVICE
Of course the service cannot be affected by a contactless hotel business. That's why you can use a digital guest app, as a virtual concierge, to communicate leisure activities, restaurant recommendations as well as WLAN access and additional services completely contactless. This is not only a good service concept, but also meets the guests' desire for information to be provided independently of time and place.
OUR ADVICE
A contactless lodging service is possible. The basis for this is the use of modern, digital solutions in the areas of guest service, payment and key transfer. However, since the consequences of the pandemic in the form of distance regulations and hygiene measures will presumably continue for some time, and some regulations could be part of the "new normality", the investment in such systems is an investment in a sustainable business.